PMP is the most reputable certification program for project managers around the world. Total PMP certification holders are above one million and counting. PMP certification holders earn 20% higher compared to uncertified project managers based on a salary survey.
This makes PMP certification highly desirable for project management professionals!
I wanted to help you to make your decision process easier and compared best PMP onlince courses in the market. Please do not forget this post based on my personal thoughts and experiences.
1. Master of Project Academy – Online PMP Course
Master of Project Academy is an online project management course academy that just focuses on project management. When you check their websites Master of Project Academy, you'll see that they also has CAPM, ITIL, Agile and other important project management courses. Some of my friends took Master of Project's online PMP classes and they were generally happy about the course material, community and platform.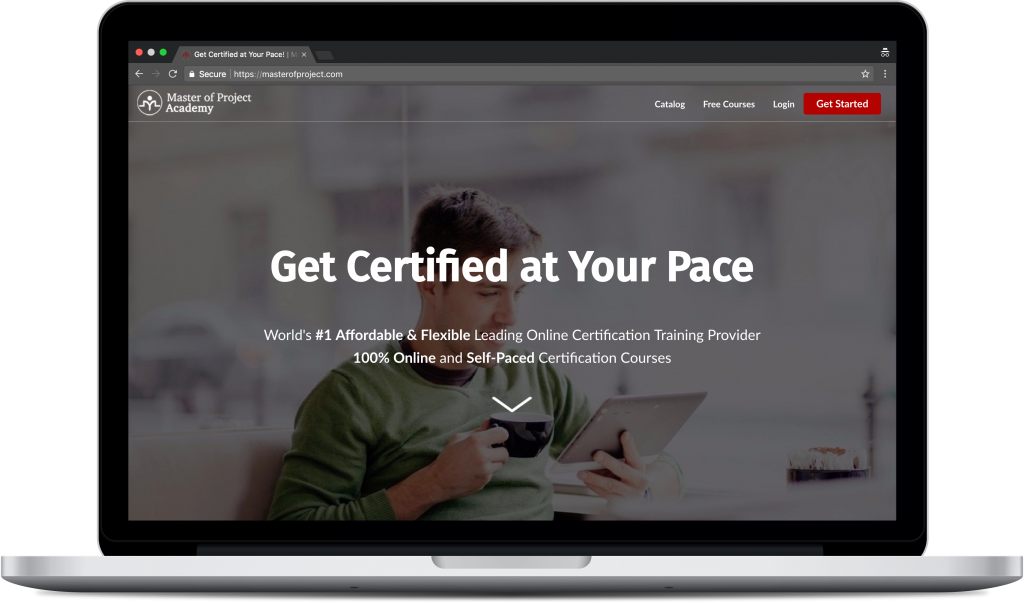 Advantages of Master of Project Academy;
Master of Project Academy sends your certification of complete when you completed all course. PMI accepts this certification as a source of 35 contact hours project management training requirement to sit for PMP exam.
You can reach your training material from your computer or mobile phone. This is also a great option since you can take online classes when you are at traffic or on the train, bus, etc.
You can download course materials, supporting documents, example question, videos, etc. You can use them for preparation when you're offline.
Question dashboard is very responsive. When you have a question about the topic, write it down and instructor returns you within 24 hours.
Sample PMP exam questions are great practices for you. You can try yourself before you take your real exam.
They have the highest success rate with 99.6% in the online certification course market.
You can enroll Master of Project Academy course with three pricint options. If you have free time, you don't have to make a big commitment. You can start monthly plan ($37 per month and you can cancel whenever you want!). If you want more time and think that you'll take the PMP exam within a year, you can choose annuall plan. If you prefer to subscribe course for life-time access, it is also available.
Disadvantages of Master of Project Academy;
Master of Project Academy offers only self-paced online training. They do not have online class-room. (I am not quite sure benefits of it but some people ask me.)
Here is a sample video from Master of Project Academy PMP Training.
Click here to learn more about Master of Project certified PMP courses that starts from $30.
Note: Do not forget to use PROJECTHIPO20 discount code to get your 20% off for all courses.
2. Udemy – Online PMP Course
Udemy is the biggest online video course market place. They have a very large range of courses. There are different course from different sellers. I'm not quite sure how you can prove 35 contact hours (PDU) completion to PMI. Quality of course material can change from seller to seller. I do not recommend to took this kind of courses.
Let's take a look on a Udemy course: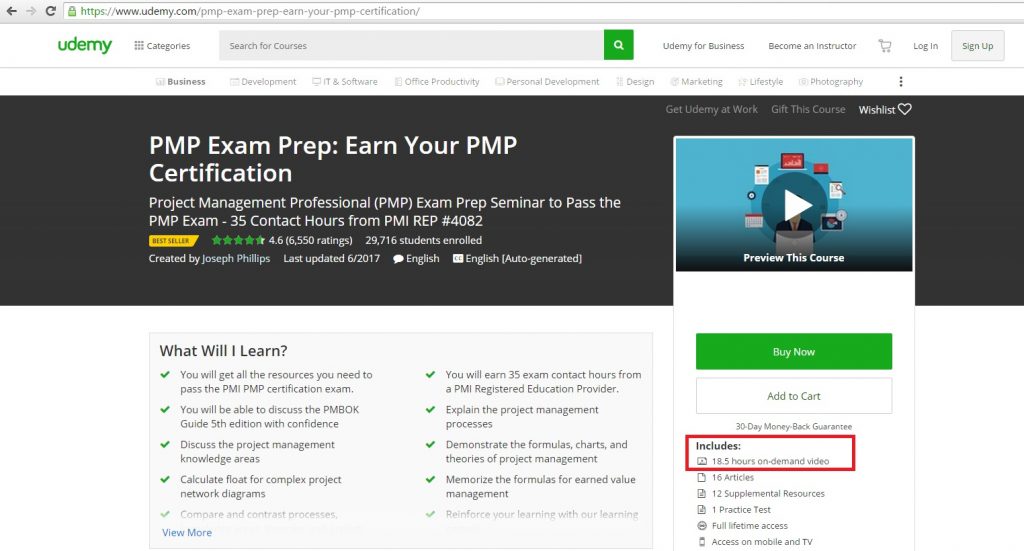 This course is featured as Udemy best seller and it is claimed that provided through a PMI REP! But be careful with the content. Although they list is as "35 Contact Hours" PMP training, it has only 18.5 hours of video! In order to qualify for the PMP Exam, you must have attended a 35 contact hours PMP training and these must be instructional hours taught by an instructor. This course might be trouble for you since it has almost half of the total required hours.
3. Simplilearn – Online PMP Course
Simplilearn is one of the biggest Indian online course provider. I don't take their courses yet so I just share my opinion based on my personal observations. In first look, I thought that Simplilearn focuses on companies rather than personal education. Their prices are higher than market avarage and they do not offer monthly or annual course price packages. Also their course page has lots of redirections about business packages.

I have some friends who took Simplilearn courses because their companies use it. Simplilearn gives certification of completion like Master of Project Academy and this course is also valid for passing PMP course. But if you have enough time and dedication, why should you pay for a higher fee? I would choose Master of Project Academy PMP training monthly pricing plan.
There is online classroom option but if you ask me, time is the real problem for professionals so I recommend self-paced course solution. This is what makes online education precious.
4. GreyCampus – Online PMP Course
GreyCampus is a relatively new PMP online course provider. Their HQ is in India. Their course structure and approach is similar to Simplilearn. You can attain online classrooms and you need to pay for lifetime course. I think they also target companies. You can also reach 35 contact hours education. I had a sample lecture from them. I did not like the echo on the video, and the course does not dive into the PMP details to crack the PMP exams.

Final Thoughts
PMP is not an easy exam to pass. You need a good education program. Offline courses are expensive and hard to reach. Online, self-paced course materials are ideal for working professionals. When you choose your course provider, be careful about company history, their success stories and support from instructor. Good luck in your PMP journey.

Isabella Valeria, PMP, ITIL
I am from Madrid and I work for Amazon as a Project Manager. I am a passionate PM blogger looking for new trends in project management world. Trying to contribute to ever growing PM community!
PMP Training Comparison
Review by: Isabella Valeria
5 / 5 stars