Being a PMP certified professional can be considered as expensive, time-consuming and difficult. But these days, companies treat PMP certification as an important credential that adds credibility to your resume. Further, it helps you build the essential skills required to excel in your career. Hence if you are a working professional and looking for the best PMP Training program to join, therefore, in this scenario, you will look for online reviews to assess the most reliable and cost-effective PMP certification training provider and its products. You are lucky, because here in this article, I am going to review the GreyCampus PMP Training provider for PMP education. After that, I will provide you the details along with the pros and cons. Hence, it will help you to decide whether choosing GreyCampus PMP Training is the right choice or not.
About Vijay Pasupulati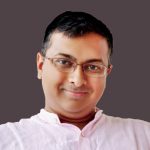 Vijay is the Co-founder and CEO of GreyCampus. He has been leading the company since its inception. Under the leadership of Vijay, GreyCampus P has established itself as a leading education platform. It provides services in the areas of certification training for working professionals and test preparation for competitive examinations.
Initially, he graduated in 1996 and picked by TATA consultancy services for a job in Singapore. A few years later, he moved to Citibank and then to New York to work for Zurich based Credit Suisse. Meanwhile, he pursued a part-time MBA at New York University Stern School of Business. By 29, he was a vice president at Credit Suisse. In early 2005, he joined Goldman Sachs in New York. Thereafter, he was sent soon along with nine others to India to set up operations. Further, by 2008, he was bitten by the entrepreneurship bug and quit his job and registered GreyCampus in Hyderabad.
Above all, Vijay's competitors in online certification space include homegrown players such as Simplilearn and TalentEdge as well as global players like CourseEra.
Evolution of GreyCampus PMP Training Provider
Vijay Pasupulati was working as a vice president at Goldman Sachs in India for four years. He was among the few handpicked by New York-based investment bank to set up operations. In 2008, at the time of the global economic crisis, Vijay Pasupulati took the biggest risk of his life and quit his high paying corporate job.
Because he had an urge to do something on his own. Therefore he shifted from Mumbai to Hyderabad to become an entrepreneur. His belief was that
"We shouldn't be a small fish in a big pond. But rather a big fish in a small pond "
The small pond that Pasupulati wanted to swim in and explore was India's online education sector. Further, he believes that education is the one sector that can create an impact and at the same time be a business opportunity.
Above all, his company, GreyCampus Edutech is India's fastest-growing technology company according to a study by consultancy firm Deloitte.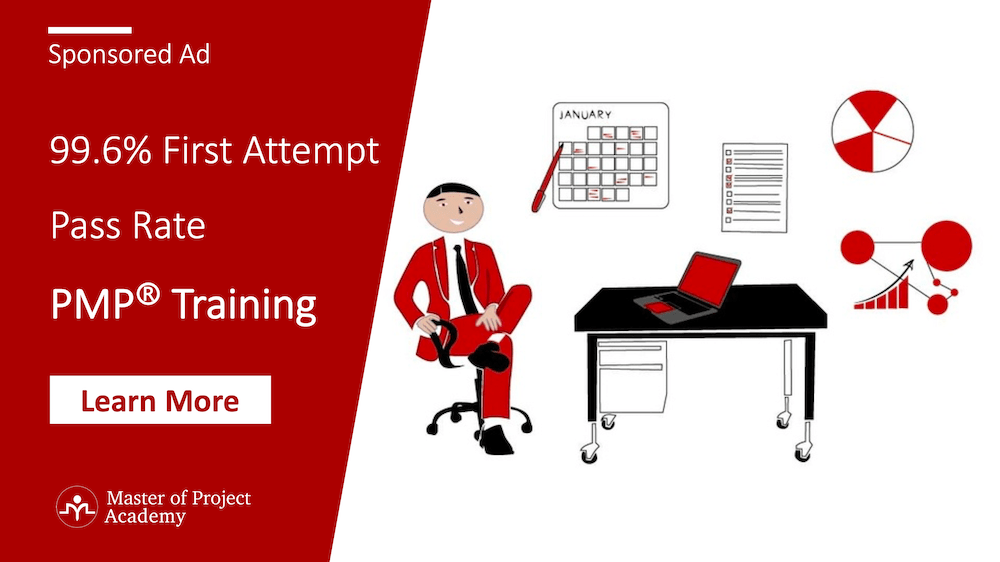 The Hyderabad based startup provides online training for professional certification courses across areas such as project management, complex data, service management, and quality management. Thus, between 2013 to 2016, Pasupulati's company grew by a staggering 1622% in terms of revenue.
Initially, the company developed a virtual classroom under the name Learningware.in. It offered classes for engineering students. But, the big break came in 2013. The company tied with some of the world's best certification programs to offer online training programs and raised money from a few Hyderabad based angel investors. The certifying agencies include the International Association for Six Sigma Certification and Project Management Institute (PMI). Today GreyCampus offers training programs on JavaScript, Cloud Computing, and Adobe. It has trained 30,000 professionals across the US, Middle East, and Asia Pacific Regions. So, their main focus is not PMP training.
Some of the training programs cost $400 for a few sessions and others are offered at $40
What is GreyCampus?
GreyCampus is a Registered Education Provider (ID-3871) of the Project Management Institute, USA and an Accredited Training Organization (ATO) of PEOPLECERT. It is based out of Texas, USA. They have a global network of high-quality instructors. This network is maintained through continuous empanelment, evaluation, training and feedback processes.
Further, they have an association with leading global certification bodies such as PMI, PeopleCert, AXELOS, and IASSC
GreyCampus provides a range of courses on project management certifications like PMP and PRINCE2, Big Data, Data Science, Service Management, Quality Management, Six Sigma, IT Service Management, DevOps and Cloud and others.
Besides, Grey Campus PMP Training provider has trained 150,000 + students across 50+ countries leveraging a pool of 500+ expert instructors.
In addition, they specialize in instructor-led blended certification training programs in project management, Six Sigma and IT service management and other areas.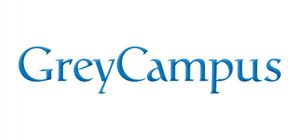 GreyCampus PMP Training Philosophy
GreyCampus PMP Training provider make learning engaging and effective for working professionals looking to get certified in chosen areas
Also, they believe that instructor-led training augmented with online resources is the most optimal training learning environment leading to the best results.
GreyCampus PMP training framework brings together high-quality instructors, structured learning resources, simulated exams, and quizzes, mobile apps, mentoring and dedicated support over a robust platform.
The student base of the GreyCampus PMP Training is distributed across the world. It includes a mix of individuals looking to get certified to enhance their careers and organizations looking to certify their employees for business goals.
Before diving into the details of GreyCampus PMP Training provider offerings, let's learn some more facts about PMP Certification.
What is the PMP Certification?
Project management Professional (PMP) is a globally recognized professional certification. It is offered by the Project Management Institute (PMI), a US non-profit professional organization. In other words, it is a well recognized and respected credential, PMP is considered essential for the project managers. Especially for those who wish to take the next step in their career.
Project Management Body of Knowledge (PMBOK) of the latest version is used as the guide for testing aspirants. Further, the PMP exam tests the applicant on tasks out of five performance domains
Initiating the project (13%)
Planning the project (24%)
Executing the project (31%)
Monitoring and controlling the project (25%)
Closing the project (7%)
The mentioned percentage is weightage given to each domain in the exam.
The cost of the PMP Exam is 405 USD for PMI Members and USD 555 for non-members. To become a PMI member, you have to take PMI membership and become a PMI member. The cost of PMI membership is USD 139.
Format of Exam
The exam has about 200 multiple-choice questions. Out of these, 25 are not counted towards the final score. However, these are used as pilot questions to improve the standard of the exam. But one cannot know what those questions are as they are placed randomly throughout the exam. Besides, it is a closed book test. In other words, no reference material will be allowed to be used by an applicant during the test.
Requirements of PMP Certification
PMP Certification is the right choice for those candidates who are an experienced project manager. Because, a project manager is responsible for all aspects of project delivery, leading and directing cross-functional teams.
Prerequisites for becoming PMP certified are:
One should possess a four-year degree course and 4500 hours of leading and directing projects.
Or candidate should have a secondary degree (High school diploma) and 7500 hours of leading and directing projects and
Additionally, you need 35 hours of project management education i.e. 35 PDUS.
PMP Exam is designed to objectively assess and measure project management knowledge. And, PMBOK Guide is the main reference book which is an internationally recognized standard for project management fundamentals. It is applicable to a wide range of industries.
Besides, exam content includes 10 PMBOK Knowledge areas which include 49 processes applied to 5 basic process groups.
There are 2 modes to attempt the exam i.e Computer-based testing (CBT) and proctored paper-based exams.
Advantages of PMP Certification
Adds value to the resume
Provides industry recognition
Helps you learn important skills
Contributes to higher income
Provides networking opportunities
Validates your dedication to the job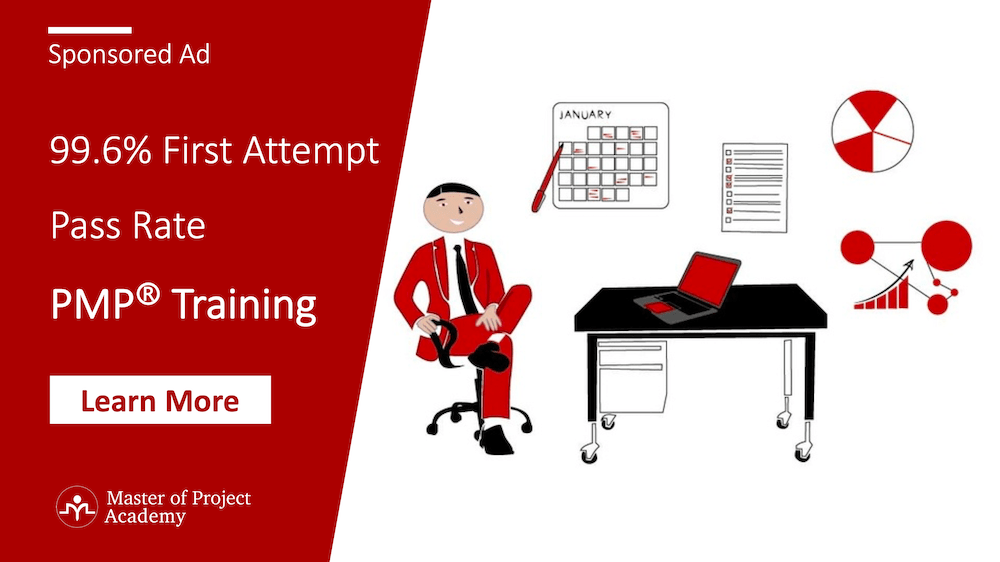 Now let's talk about GreyCampus PMP Training
GreyCampus PMP Training is a complete preparation course for the PMP Credentials
They offer 3 learning formats:
Traditional Classroom: This includes 4 days of live instruction in a physical classroom, 30 days of post-program instructor helpline and one-year online access to e-learning material.
Live Online Training: This includes 4 days of live instruction in a virtual classroom, 30 days of post-program instructor helpline and one-year online access to e-learning material.
Self-paced online course: This includes one-year online access to 23 hours of videos and other study materials.
GreyCampus PMP Training in Traditional Classroom and In-person classes involves in-depth reviews of the domains and task detailed in PMP Exam content online.
Whereas GreyCampus PMP Training Online Self learning involves detailed videos, simulated tests, and other study aids created by an expert team of certification holders. The best part is that this is already included in traditional classroom training and live online training.
Salient Features of GreyCampus PMP Training
The curriculum is based on the latest edition "A Guide to the Project Management Body of Knowledge" version 6.
GreyCampus PMP Training conducts additional hands-on examination review once every month for participants of instructor-led training. This review session involves a live simulated test showing you how and the reason behind answering each of 200 questions
Above all, they have an audited PMP Exam pass rate of 99.4%
GreyCampus PMP Training offers 100% Money back guarantee
Complete Coverage of PMBOK Guide 6th Edition and exam objectives
23 Hours of engaging e-learning content
 Besides, GreyCampus PMP Training gives 3 Full Length Simulated Exams
Also, GreyCampus PMP Training offers 1000+ Practice questions
Furthermore, GreyCampus PMP Training offers challenging quizzes at the end of each knowledge area
Besides, GreyCampus PMP Training encourages the use of 500+ Flashcards
In addition, GreyCampus PMP Training defines 15 commonly used tools and templates for Project Managers
Moreover, GreyCampus PMP Training launches Interactive Games for ease of learning
On top of the above, GreyCampus PMP Training offers 1 Year of e-learning access
For GreyCampus PMP Training live online and classroom courses, 30 days of post-program support from the instructor is provided.
Deliverables of GreyCampus PMP Training
35 contact hours certificate that satisfies PMI's education eligibility requirements
1-year e-learning access to the course with additional videos, practice questions, and 3 simulated tests
An official copy of PMBOK Guide version 6
Free access to a dedicated one day live exam solving session.
30 days access to an instructor via email for doubt clearing and issue resolution
Pricing
GreyCampus PMP Training Online Self Learning is a self-paced online program priced at Rs 7,999 or $150
GreyCampus PMP Training in Live Online mode is a live training over the web lectures priced at Rs 9000 or $599
And GreyCampus PMP Training in Classroom mode is a traditional classroom training priced at Rs 12,000 or $1,299
Schedule
GreyCampus PMP training is conducted at various cities in India like New Delhi, Pune, Chennai, Mumbai, Hyderabad, Bangalore from 9 am to 5 pm IST (UTC+5:30) on the weekends.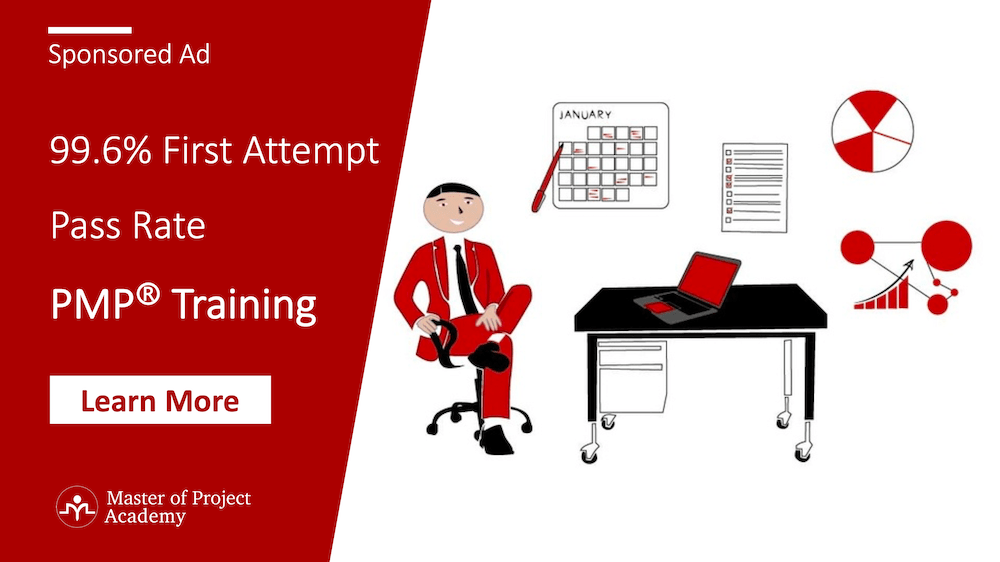 Course Curriculum of GreyCampus PMP Training
Chapter 1: Introduction
Introduction
Changes introduced in 6th Edition
Maintaining your certification
Chapter 2: Foundational Elements
Foundational Elements
Projects
The Importance of Project Management
Relationship of Project, Program, Portfolio Management
Components of PMBOK Guide
Tailoring
Project Management Business Documents
Chapter 3: Environment in which projects operate
Environments in which Projects Operate
Enterprise Environmental Factors
Organizational Process Assets
Organizational Systems 
Chapter 4: The Role of the Project Manager
The Role of the Project Manager
Project Manager Competencies
Leadership vs. Management
Chapter 5: Project Integration Management 
Project Integration Management
Develop Project Charter
Develop Project Management Plan
Direct and Manage Project work
Manage Project Knowledge
Monitor and Control Project work
Perform Integrated Change Control
Close Project or Phase
Chapter 6: Project Scope Management
Project Scope Management
Plan Scope Management
Collect Requirements
Define Scope
Create WBS
Validate Scope
Control Scope
Chapter 7: Project Schedule Management
Project Schedule Management
Plan Schedule Management
Define Activities
Sequence Activities
Estimate Activity Duration
Develop Schedule
Chapter 8: Project Cost Management
Project Cost Management
Plan Cost Management
Estimate Costs
Determine Budget
Control Costs
Chapter 9: Project Quality Management
Project Quality Management
Plan Quality Management
Manage Quality
Control Quality
Chapter 10: Project Resource Management
Project Resource Management
Plan Resource Management
Estimate Activity Resources
Acquire Resources
Develop Team
Manage Team
Control Resources
Chapter 11: Project Communications Management
Project Communications Management
Plan Communication Management
Manage Communications
Monitor Communications
Chapter 12: Project Risk Management
Project Risk Management
Plan Risk Management
Identify Risks
Perform Qualitative Risk Analysis
Perform Quantitative Risk Analysis
Plan Risk Responses
Implement Risk Responses
Monitor Risks
Chapter 13: Project Procurement Management
Project Procurement Management
Plan Procurement Management
Conduct Procurements
Control Procurements
Chapter 14: Project Stakeholder Engagement Management
Project Stakeholder Engagement Management
Identify Stakeholders
Plan Stakeholder Engagements
Manage Stakeholder Engagement
Monitor Stakeholder Engagement
Chapter 15: Ethics and Professional Conduct
Ethics and Professional Conduct
Responsibility
Respect
Fairness
Honesty
Main USP of GreyCampus PMP Training Programs:
GreyCampus PMP Training offers 1 year of online access which is sufficient enough to prepare for the PMP exam. Moreover, only a handful of training providers gives 1 year of access of online content.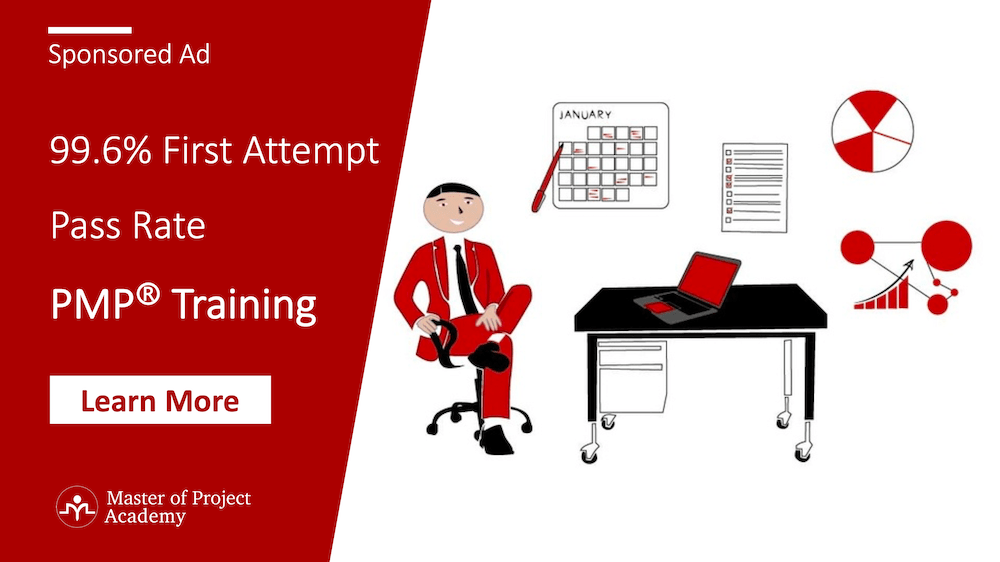 Advantages of GreyCampus PMP Training:
A simple process of Enrollment
The enrollment process is simple and easy in GreyCampus PMP Training courses
Accessible Learning Management System
The Learning Management System (LMS) is intuitive and easy to use.
You can easily access the study material. It keeps track of your learning progress and shows your strong and weak areas
High-Quality Videos
The videos are short, well made and are of high quality for GreyCampus PMP Training Programs. They run at a decent pace which is easy to follow.
Well-designed study material
The study material is well designed and well structured for all courses of GreyCampus PMP Training provider.
Complete coverage
There is complete coverage of all the exam topics
The content includes knowledge area quizzes to help you regularly check and validate your knowledge
Practice Questions
There is a good collection of practice questions and simulated tests which are essential for exam preparation for courses of GreyCampus PMP Training provider
Templates and Learning Games
The project management templates and learning games are helpful for improving your project management knowledge
Video Lecture PowerPoint Files
All the PowerPoint files can be downloaded so that students will not need to type their own study notes as they go through the lectures
PMP Sample Forms
They are part of the toolkit. PMP Sample Forms are examples of the forms mentioned in the PMBOK Guide to illustrate how they are used in real project environments. Forms include:

Change Request Form
Action Plan Tracker
Change Control Registry
RACI Chart
Stakeholder Register
WBS Dictionary
Run Chart
Progress Tracking
GreyCampus PMP Training provides an online dashboard which allows aspirants to understand their progress in PMP Exam preparation at a glance
This dashboard details the topics that have covered, percentage completion and performance on various topics for the PMP Exam.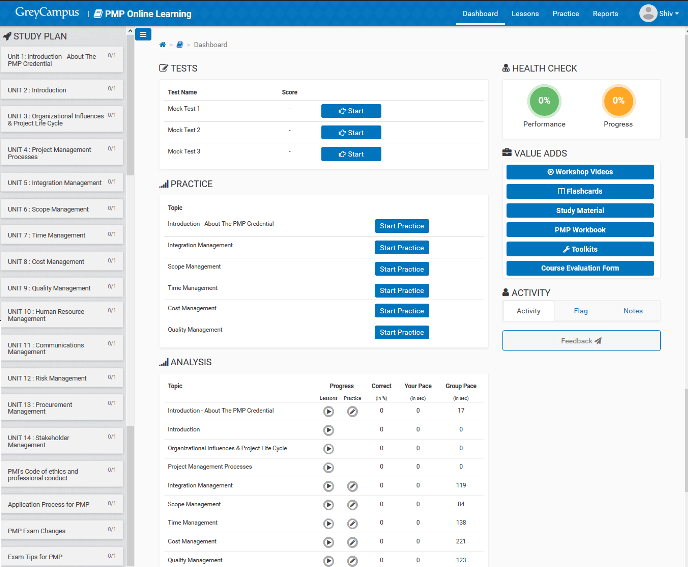 Full Refund Guarantee
GreyCampus PMP Training has given flexibility to students to get a full refund for the online course portion of the course provided that refund is requested within 3 days of purchase and progress of the course is less than 30%
Online Analysis
The online analysis allows aspirants to understand their strengths and weaknesses for PMP topics. Hence, they will be able to focus their study time on the most crucial areas that need improvements.
ITTO Games
The Inclusion of "ITTO Games" is a big plus for this PMP certification course. Thus, many studies pointed out that games are a useful tool to help students remember many things (i.e. ITTOs) in a short time.
Downloadable PMP Student Kit
Kit includes

Study Notes
Video Transcripts
Cheat Sheets
Formulas
Interactive Game interface to fill in appropriate ITTOs into each of the processes
The Disadvantages of GreyCampus PMP Training Programs
Despite the above strengths, there are few disadvantages of GreyCampus PMP Training Programs:
The demo of the course videos is not available. But you can check the quality of study material by downloading some free content
Practice questions are found to be easy. You may need to practice harder questions from a different source to gain confidence
The videos cannot be downloaded on a laptop or mobile. You have to stay connected to the internet to watch the videos.
The cost of PMP online courses is a bit higher than the average available on the market. But with a limited 50% discount available, it is on the cheaper side
The presentation style of the instructor is a bit dull as per the students' review. Most of the information is already on powerpoint slides
Explanation of online mock exams is not detailed enough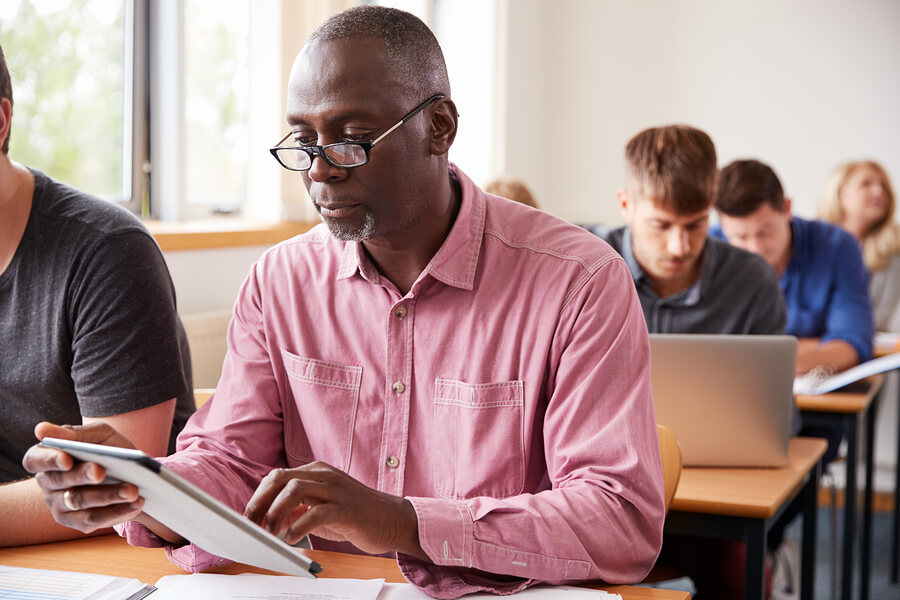 Testimonials from Grey Campus PMP Training Students:
Overall I had good experience with GreyCampus starting from the customer service team who are patiently answering my inquiries and provided information that I need anytime through the messaging application. And after I had signed up, Operations Manager Ria had been diligently to walk me through step by step to complete my PMP membership registration and supported the whole registration process. Thanks.
Thank you very much Grey Campus and PMP Trainer Zack. Above all, it was a wonderful interactive training all through 4 days and I am sure I can use this guidance in my PMP Exam.
The course content of the PMP Training was very well organized and structured. Also, the trainer took us nicely through the course. Besides, the PMBOK was covered very nicely. Above all, the video contents are very clear and easily understood. Good going.
 I had an awesome experience in learning from GreyCampus. Because I have attended PMP Training conducted by GreyCampus. Besides, the size of the batch is very less so that the trainer can give attention to every participant. Finally, I have cleared my certification exam without any hurdles.
Professional organization with experience and expert trainers.
I did a lot of research and was skeptical about the quality when I saw their low prices. But must admit they didn't disappoint me at all. However, support was decent but the training was good. To summarize, I must say their programs are a good value for money.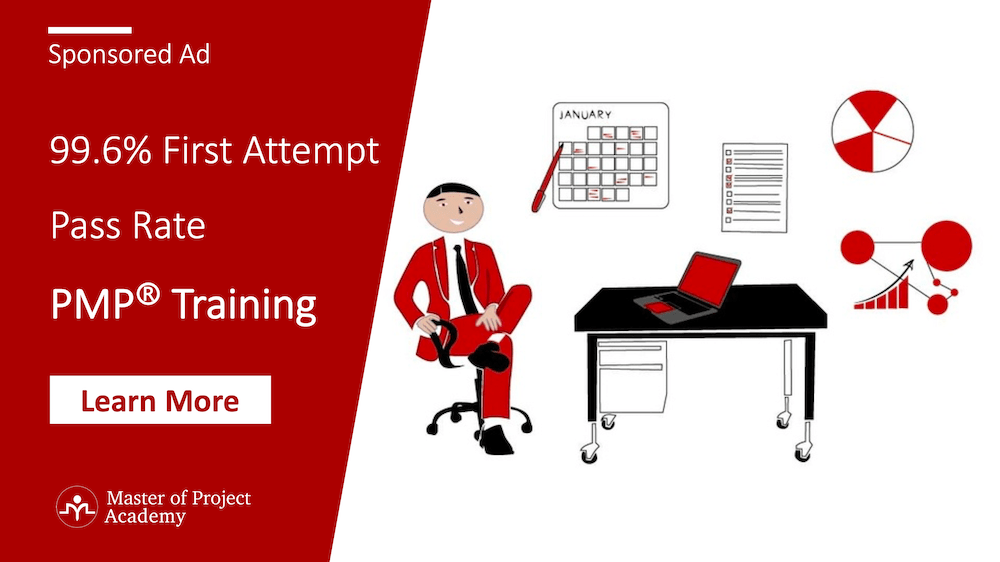 Online Reviews at trust pilot.com
Sreekar Y V
*****
Excellent support and training that they have offered to understand the concepts and preparation of examination. I have completed my management certification on time.
Bader B
 ******
Doing my PMP with GreyCampus was a very good experience. They were very professional and helpful. They respond fast to emails and answer all my requests. I recommend GreyCampus to anyone. I am very satisfied.
Pia
****
Great administrative support, tutorial, and mock test content might not suffice to pass the exam.
I just passed the PMP exam. Also, have enrolled with GreyCampus seamless package (classroom training, study material, online mock tests and registration for final exam) a year before I took the exam.
However, the classroom training was very good given the expertise of the lecturer; yet of course, classroom training (4 weekends) is not sufficient for the exam. Although, online study material suffers from rather boring video tutorials (A different speaker might work wonders) and yes the mock tests are at times challenging due to grammar mistakes and typos.
Compared to the real exam, GreyCampus' mock tests tend to include too much narrative. However, the real exam is crisp and alternative options are not easy to eliminate.
In addition, I personally purchased another mock test package comprising 8 tests which proved really helpful as that provider offers a meticulous explanation of why the answer is correct and why other options aren't so learning from mistakes was a blessing. Also, they would change the sequence of questions every time you took the same test.
Hence my overall rating for Greycampus; excellent logistical support, very good classroom training in my case, study material and mock test not sufficient to pass the exam, so to be on the safe side get another mock test package on top.
Ramasubramani Muthanapillai
**
I took the in-person class with GreyCampus. To begin with, the tutor was reading the materials prepared by GreyCampus without much explanation. Further, there was confusion in the mock test questions and answers and the tutor was not in a position to clarify them as well. Therefore, you might be OK to sign to other learning courses with them and save a big deal of money.
Lisa Marie
*
I had the unfortunate experience of signing up with the GreyCampus. GreyCampus is a scam. It is run by a bunch of Indians who use fake English names. I showed up for class. It was literally me and one instructor who seemed more confused than I was.
Weirdest experience of my life. I left after 1 hour and demanded (after much pushback from them) my money back. No materials, no syllabus, no workbook or anything. Stay away!!! It's no legit.
PMP Practice Exam 
GreyCampus PMP Training offers one full-length simulated exam with 200 Questions which has the following features:
A real exam experience including the interface and the rigor that will give you a taste of what it feels like taking the PMP exam
A complete solution to all the questions so you know why an answer is correct and how you can go about solving the questions
Detailed analysis of your exam attempt to help you understand how you are doing across each knowledge area and process group
* All this for no fee and no credit card required as well
In order to practice this exam, they have a tie-up with a partner named FABmarks.com. At Fabmarks.com, they offer 2 types of practice exams
Forever Free and
Premium
           Forever Free
1 full-length PMP Practice exam
20 PMP Practice questions
Solutions with explanations
          Premium
3 full-length PMP Practice exams
1200+ PMP Practice questions
In-depth analytics
Solutions with explanations
Price is $60 for 90 days access
PMP Question Bank Highlights
1000+ questions

All aligned to real exam questions

Solutions

Detailed solutions for all questions

Simulated Exams

Real Exam Experience replicated

Structured question pool

Organized by topics and difficulty levels

Rich content

Enhanced with graphics to clarify concepts

Analytics

Question level performance tracked and analyzed
Sample Questions
Here is a sample question for your reference: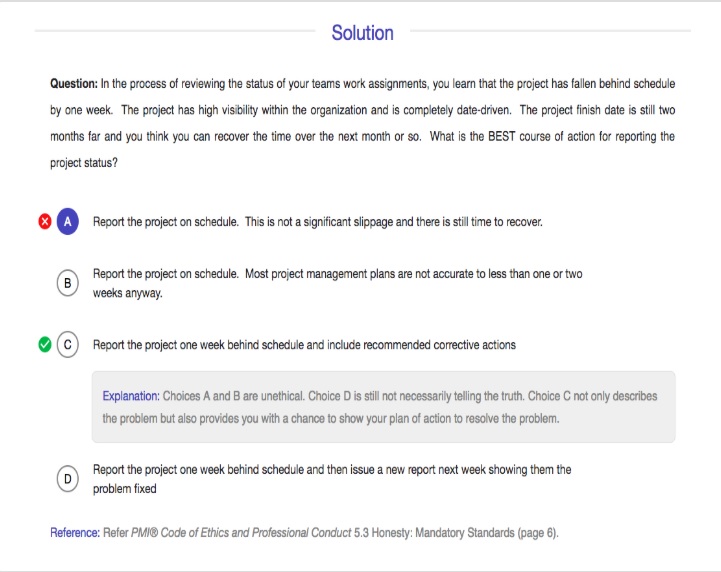 Other Aspects of GreyCampus PMP Training
GreyCampus Scholarship Program
GreyCampus PMP Training offers scholarship programs that are designed as an opportunity for deserving students to fulfill their goals.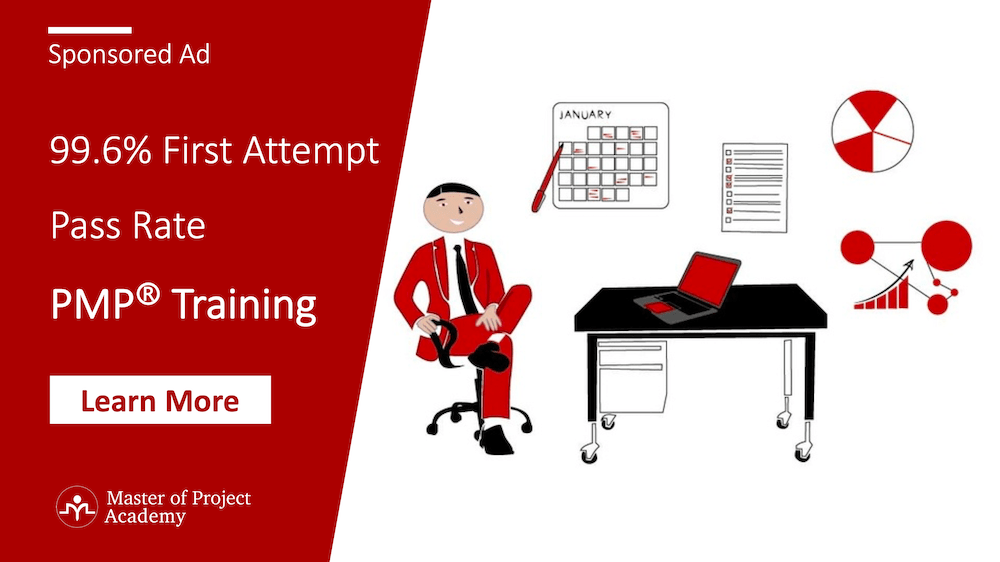 Eligibility Criteria
Students above the age of 18 and studying in the USA are eligible for this scholarship program
Besides, applicants working currently in any part time or freelancing job can mention their skillset while applying for the scholarship
Benefits
The winning scholar will receive a scholarship of $2000 and the runner up will receive a scholarship of $1000
However, this scholarship is not merely a financial relief for the recipients. But grants them the recognition and prestige associated with being rewarded a merit scholarship. Further, this registers as a major achievement in the recipient's academic records.
Procedure to apply
Fill up the concise form given on the website of the GreyCampus.
Then, write down a short description of what makes you eligible to earn the scholarship
Once all the fields are updated, click on the Apply button
Hence, within 15 days of submission, you need to send an essay of at least 1000 words on any of below topics to [email protected]

How to Change careers without going back to school
Next Stop: Traditional Education or Certification Courses?
Top ways to use social media to increase productivity

Essays need to be emailed to [email protected] in doc or pdf format with your details. (Name, phone number, college name, and college admission number)
Award Announcement
GreyCampus receives a large number of applications for the scholarship. Upon submission, their team of experts reviews the applications and the winners would be announced after. The selected essays will be published on the GreyCampus Blog.
Sale/Bundles
GreyCampus PMP Training provider keeps on introducing flash sales to attract customers. Currently, they are offering flat 60% off on 75+ online self-learning courses
Besides, GreyCampus PMP Training offers Business Management Bundle to get ahead in a professional career. The price of the offer for 7 courses is $299  and the courses are:
ITIL 4 Foundation Training and Certification
Six Sigma Green Belt Training & Certification
Microsoft Project Training
PMI-ACP Certification Training
PRINCE2 Foundation Certification Training
Six Sigma Black Belt Training & Certification
PMP Certification Training.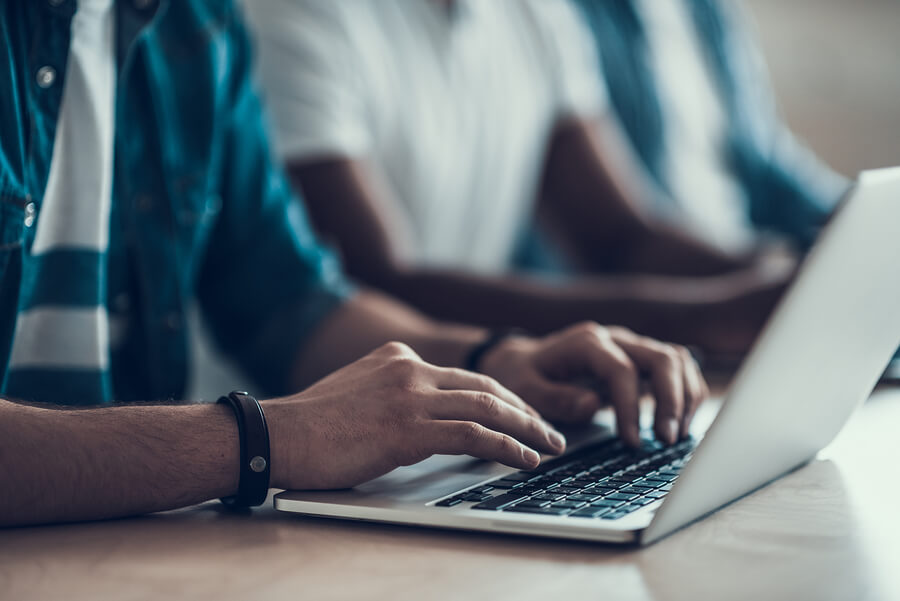 PMI PDUS
GreyCampus PMP Training offers Preapproved PMI PDUs by attending the following courses:
| | | | |
| --- | --- | --- | --- |
| S.No | Course Name | Price | No of PDUs |
| 1 | ITIL V3 Foundation Training and Certification | $100 | 25 |
| 2 | Internet of Things-IoT 101 | $8 | 2 |
| 3 | Six Sigma Yellow Belt Training and Certification | $36 | 9 |
| 4 | Lean Six Sigma Green Belt Training and Certification | $140 | 35 |
| 5 | PRINCE2 Foundation Certification Training | $140 | 35 |
| 6 | CAPM Certification Training | $92 | 23 |
| 7 | Lean Six Sigma Yellow Belt Training & Certification | $40 | 10 |
| 8 | Lean Six Sigma Black Belt Training & Certification | $180 | 45 |
| 9 | Six Sigma Black Belt Training and Certification | $180 | 45 |
| 10 | PMI-ACP Certification Training | $84 | 21 |
| 11 | PRINCE2   Practitioner Certification Training | $160 | 40 |
How to Claim PDUs?
GreyCampus PMP Training course has a specific activity ID for its PDUs. All you need to do is to paste the Activity ID in the required space in PMI's official website according to different types of PDUs you have. For example you claim 20 technical, 10 leadership and 15 strategic PDUs for the Lean Six Sigma Black Belt course. Once you finish doing this, you will get a link through which you can claim your PDUs.
Alternatives for GreyCampus PMP Training
After considering all the pros and cons of GreyCampus PMP training programs, you may think that it is not a good fit for you. In other words, you may like to explore other PMP training programs. We have explored the other PMP training programs which can be a GreyCampus PMP training alternative for you.
---
You can read our Best PMP Training post to see all PMP training options and ratings.
---
#1 GreyCampus PMP Training Alternative: Master of Project Academy
Founded in 2012, Master of Project Academy helped more than 100,000 professionals in more than 180 countries. The biggest advantage of Master of Project Academy is providing you as many flexible plans as possible. Self-paced PMP training, in-person PMP Training, instructor-led PMP live sessions. Starting from $67/month, you can find comprehensive PMP training materials to get ready for the PMP exam. All you have to do is opting for the best option you would like to enroll.
You can see our complete review and details about Master of Project Academy PMP programs.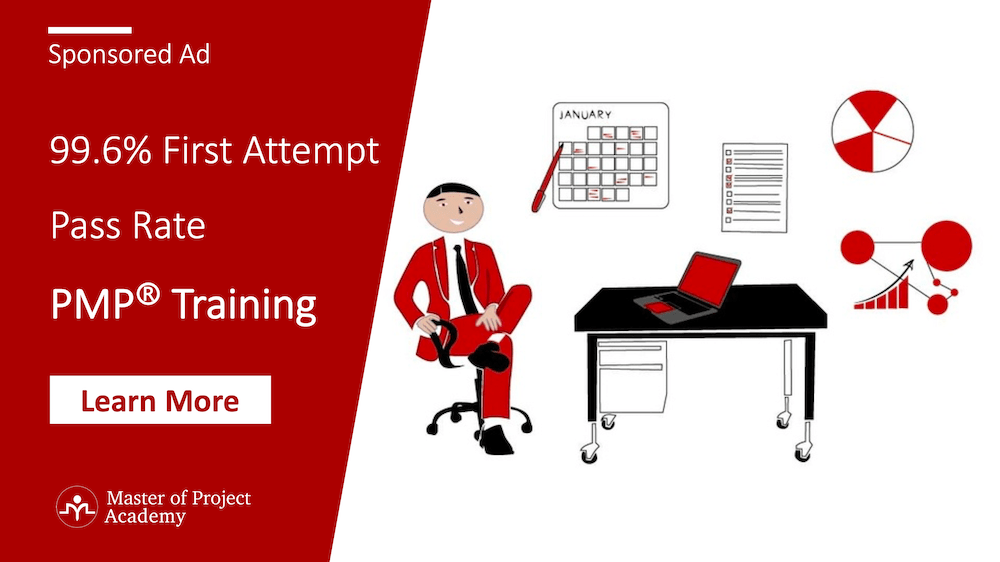 #2 GreyCampus PMP Training Alternative: Brainsensei
Another GreyCampus PMP training alternative can be Brainsensei PMP programs. Brainsensei offers e-learning PMP course. This course is in line with the PMBOK. Furthermore, the course covers the 35 PDU requirement of PMI to write the PMP Examination. The cost of Brainsensi PMP course is relatively lower due to the e-learning format. However, there are other good options available which are more cost-effective.
#3 GreyCampus PMP Training Alternative: Velociteach
If you have lots of money that you do not consider how much you will pay for the PMP training, you can go for the Velociteach PMP option. While there is no significant difference in their virtual or in-person PMP training programs, they ask for around $2,500 to attend their program. This option is well-known by the founder of the organization who is Andy Crowe. He has a PMP book as well and maybe that is why Andy Crowe PMP platform is significantly more expensive than the other options in the market.
#4 GreyCampus PMP Training Alternative: Project Management Prepcast
Another GreyCampus PMP training alternative can be Project Management Prepcast PMP programs. Cornelius Fichtner, who is an experienced project management expert, is the founder of Project Management Prepcast platform. They have self-paced PMP options. However, they do not offer in-person or instructor-led PMP classes which is a big negative for this alternative.
#5 GreyCampus PMP Training Alternative: Simplilearn
Simplilearn PMP programs can be considered as a GreyCampus PMP training alternative as well. Simplilearn offers self-paced and instructor-led PMP training programs. However, they have a very unfair pricing strategy. If you are visiting their page from India, you can enroll in training costs as low as $100 (they show pricing in INR, which is a local currency for India) while visitors from Europe or the United States can see more than $600 for the same self-paced content material. You can read all the pros and cons of Simplilearn PMP Programs.
#6 GreyCampus PMP Training Alternative: Project Management Academy
You can consider Project Management Academy PMP Programs as a GreyCampus PMP training alternative as well.
Project Management Academy PMP course indeed provides a good course structure with good success rates. However, the cost is pretty high. The course formats include Instructor-led classroom and virtual classroom. You can read all the pros and cons of Project Management Academy PMP Programs.
#7 GreyCampus PMP Training Alternative: Udemy
You might have heard of Udemy, which is a learning platform where several instructors place their content and students can purchase and enroll in their curriculum. You can consider Udemy PMP programs as a PMP training alternative. However, keep in mind that the instructors you see on Udemy may not be there after your purchase the next day. Moreover, their content may not be 35 contact hours. This is a very big problem for Udemy PMP programs. Even though many programs advertise that they suffice 35 contact hours requirement of PMP exam, their content is far below of 35 contact hours if you a little bit look on the training page. You can see our comprehensive review of Udemy PMP programs.
GreyCampus PMP Training: Conclusion
In this post, I have reviewed both the advantages and disadvantages of choosing GreyCampus PMP Training.
First of all, the GreyCampus PMP Training program gives flexibility to aspirants to get 35 contact hours at a low cost compared to other PMP boot camps available in the market. Secondly, mock exams and resources especially PMP Forms are useful tools to practically implement project management for novice project managers. Furthermore, it offers longest study period offered (365 days) on the market of online PMP courses. In terms of the value of money and pass rate of 99.4%, undoubtedly GreyCampus is one of the best training providers for PMP Programs.
However, there are mixed reviews online about GreyCampus PMP Training courses.
The best aspect is that GreyCampus PMP Training, from time to time, keeps on introducing new flash sales, coupon codes to attract aspirants to give a feel for their courses. Besides, they have introduced a scholarship program for students to get ahead in their careers. Furthermore, they award the best candidate by giving cash amount and the essay gets published on the website.
Hence, in consideration of factors such as quality, content, features, pass rate and discounts offer, we can say that GreyCampus PMP Training Courses is one of the good choices to go for.