Simplilearn started in India, in 2009, as a project management blog, to share information, and to give advice to candidates. After Simplilearn PMP programs became popular, company turned into one of the leading online training providers, now it works in partnership with businesses and individuals to meet their unique training and coaching needs.
From a basic blog to a leading online education provider with 400+ courses and over 1 million trained professionals. See Krishna Kumar, the Simplilearn Founder & CEO, on Youtube tells the Simplilearn's success story.
Simplilearn offers online training in areas such as cybersecurity, cloud computing, project management, digital marketing, and data science, where technologies and best practices are rapidly evolving and demand for qualified candidates is far above the supply. Accordingly, their blended learning approach combines online courses, virtual live instructor-led classes, 24/7 training support. So, their main expertise is not PMP training.
You may be looking at reviews of Simplilearn in order to understand the value of the PMP certification training course. In this article, you will find pros and cons for both online and instructor-driven training programs. After reading the full review, you'll understand whether the Simplilearn PMP certification training course is a good purchase.
To explain, the PMP Simplilearn Online Training Course is, based on the sixth edition of the PMBOK Guide, given by Bryan Campbell. Bryan Campbell is an IT Project Manager with 25 years of work experience and with 3 PMI certifications: Project Management Professional (PMP)®, Program Management Professional (PgMP)® and PMI Agile Certified Practitioner (PMI-ACP)®. This training offers a good mix of e-learning videos and reading materials. After taking this course, you will receive a training certificate of 35 contact hours. It will fulfill the compulsory education required to pass the exam.
What are the available Simplilearn PMP Programs?
In short, the Simplilearn program offers a good mix of project management information and PMP exam preparation materials. It includes 8 sector case studies, 20 sector scenarios, 6 practical projects, 7 simulation tests (200 questions each).
Moreover, Simplilearn PMP training is available in two formats for individuals:
1. Self-Paced Learning
Permanent access to high-quality self-study content organized by industry experts
24×7 student support and assistance
2. Online Classroom Flexi-Pass
Flexible access to instructor-led online training courses for 90 days
Permanent access to self-paced online learning content and high-quality live class recordings
24×7 student support and assistance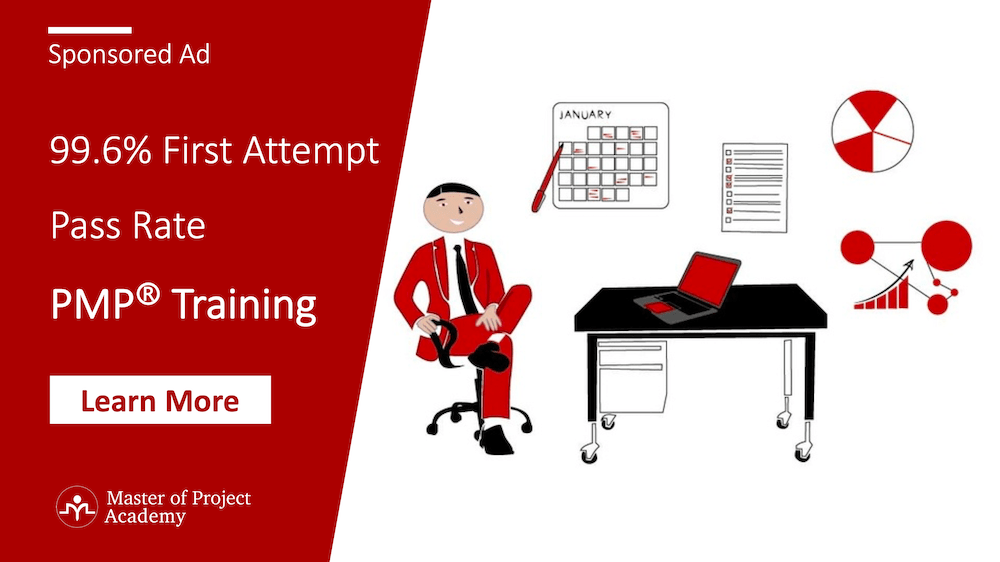 The PMP Training Course is designed with a practical training approach and given to 59,000 learners. It will help you understand how the five processing groups (Initiating, Planning, Executing, Monitoring and Controlling, Closing) and the 10 information areas (Project Integration Management, Project Scope Management, Project Schedule Management, Project Cost Management, Project Quality Management, Project Resource Management, Communication Management, Project Risk Management, Procurement Management, Stakeholder Management) described in the PMBOK Guide – Sixth Edition.
On this course, you will learn project management techniques such as work breakdown structure (WBS), resource allocation, project cost estimation, cost management, Gantt charts, and other project scheduling models. Additionally, you will acquire the knowledge on the management and constraints of projects, on how to deliver projects on time, on the scope and on budget. On this training, you will earn 35 PDUs to pass the PMP certification exam.
This course includes six industry-based projects covering a variety of concepts and scenarios. Topics covered include:
Scope management
Program and cost management
Risk Assessment and Procurement Management
Plan quality management
Risk Assessment
Agile techniques
Simplilearn PMP Certificate & PMP Test
A certificate issued by Simplilearn serves as evidence to request 35 PDUs (Professional Development Units). In other words, the certificate proves that you have made 35 contact hours and are therefore eligible to have the PMP Exam.
In order to get your online classroom PMP Training attendance certificate, you must:
Attend all classes
Pass a simulation test with a minimum of 60%
Successful project evaluation
In order to get your online self-learning PMP Training attendance certificate, you must:
Complete 85% of the course.
Pass a simulation test with a minimum of 60%
Successful project evaluation
The eligibility requirements for the PMP certificate are as follows:
| | | |
| --- | --- | --- |
| Education | Project Management Experience | Project Management Education |
| Non Graduates | 5 years/7500 hours | 35 hours |
| Graduates | 3 years/4500 hours | 35 hours |
Remember this Simplilearn certificate is just a step towards the PMP Exam. Therefore, PMP Certificate will be delivered only if you can pass the PMP Exam. The average success rate for the PMP exam is just over 60%. In the past, PMI declared 61% of as a passing grade. However, the PMI no longer discloses the exact score or success percentage. After updating the PMP certification exam, the grade is different for each candidate and depends on the difficulty level of the questions.
Do you ever wonder if you enter the exam today, can you get your certificate? If so, here's your chance to test your knowledge. The sixth edition of Simplilearn's free PMP exam is a great way to evaluate your skills in the latest project management practices.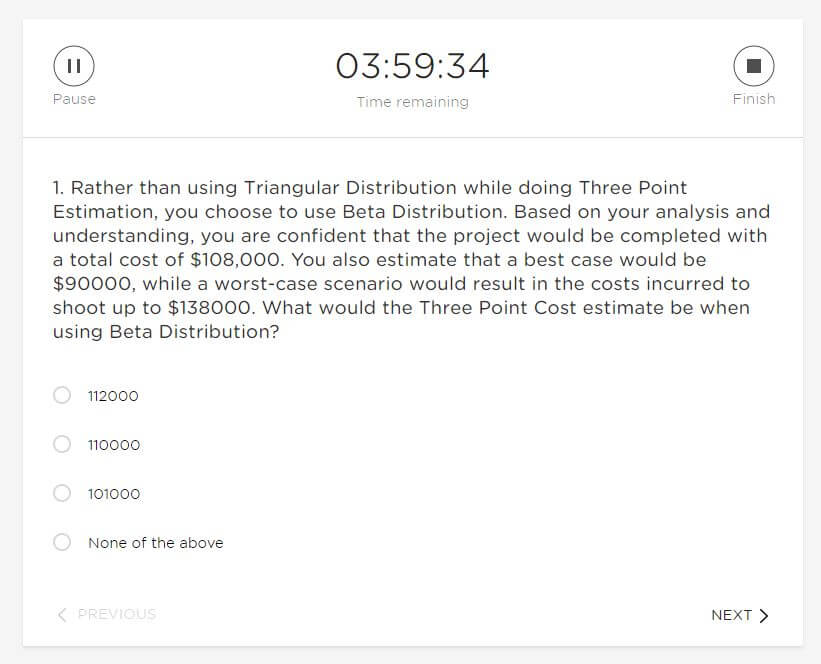 What about this sample PMP exam?
This free PMP exam contains PMBOK 6th edition exam questions similar to what you may encounter in the PMP certification exam. To help you pass the certification exam for the first time, the PMBOK test is perfect for the PMP certification exam. You can join the sixth edition of the PMP practice exam for free! You will have to submit your name, email address, and phone number. After that, you can start your PMP test. During your realistic PMP test, you will be able to see questions one by one. As this is a free test, it can be tried several times.
However, it is recommended to take the exam when you are ready for the best practice experience. There are 200 multiple choice questions and the duration of the test is 240 minutes. Each problem has several options, one or more of which may be true. You can pause the test together and allow you to test again later. The test will continue where you left off, but its duration will be reduced by the time you received in the previous attempt.
What is the structure of Simplilearn PMP Training?
The course was fully updated for the new PMP® 2018 exam based on PMBOK-6.
PMP Simplilearn training occurs of 17 lessons, tips, and tricks, 8 sector case studies, lecture readings, section-level quizzes, 20 sector scenarios, 6 practical projects, 7 simulation tests (200 questions each).
More than 59,000 students enrolled in the PMP program.
Lesson Title
Duration

Lesson 00 – Introduction to the Course

0:15:39
The headlines are: Introduction to the course and lecturer, Objectives, What is Project Management?, Benefits of Project Management, Benefits of obtaining Project Management Professional(PMP) Certification, Examining the new PMBOK 6th Edition and changes in its key content areas, PMBOK Goes Agile, Agile Practice Guide, Tools and Techniques in Agile Practice Guide, Deeper Analysis, Assistance and Support Information. Introduction to the Course is available with a preview video.

Lesson 01 – Introduction to PMP Certification

0:20:02
The headlines are: What are PMI® and PMP Certification?, Application Requirements for the PMP Exam, Guidelines to Complete the PMP Application, About the PMP Exam, PMP Exam Syllabus, About this Tutorial, Introduction to Projects, Projects, Examples, Characteristics and Drivers, Definition of Project Management, Value of Project Management, Role of a Project Manager, Project Management Skills, Why do projects fail?, Portfolios, Programs, Projects, Program Management, Features of Program Management, Portfolio, Portfolio Management, Relationships between Portfolios, Programs, and Projects, Stakeholder, Stakeholder Management, Summary

Lesson 02 – Professional and Social Responsibility

0:18:49
The headlines are: Objectives, Code of Ethics, Responsibility, Regulation, and Legal Requirements, Ethics, Fairness, Honesty, Ensuring Individual Integrity, Business Scenario, Contributing to the Project Management Knowledge Base, Enhancing Professional Competence, Business Scenario, Promoting Stakeholder Collaboration, Business Scenario, Summary

Lesson 03 – Project Management Framework

0:37:55
The headlines are: Objectives, Project Management Office (PMO), Organization Structure, Functional Organization, Projectized Organization, Matrix Organization, Advantages and Disadvantages of Organizational Structures, Project Lifecycle vs. Product Lifecycle, Project Lifecycle vs. Project Management Process, Project Management Process, Definition of a Process, Project Flow and Key Terms, Project Management Processes, Project Process, Process Group Interactions, Project Lifecycles, Agile Mindset, Project Framework, Project Management Process Map, PMI's Process Framework, Common Inputs, Project Terms, Quiz, Summary

Lesson 04 – Project Management Processes

0:08:47
The headlines are: Objectives, Project Management Process Groups, Project Management Process Map, Reading a Process Diagram, Initiating Process Group, Project Initiation, Planning Process Group, Project Planning, Executing Process Group, Monitoring and Controlling Process Group, Closing Process Group, Quiz, Summary

Lesson 05 – Role of the Project Manager

0:09:21
The headlines are: Objectives, Definition of a Project Manager, The Project Manager's Sphere of Influence, Project Manager Competencies, Technical Management Skills, Business Management Skills, Leadership Skills and Performing Integrations at the Process Level, Cognitive Level, and Context Level.

Lesson 06 – Project Integration Management

0:53:34
The headlines are: Objectives, Project Integration Management, Role of Project Manager, Team, and Sponsor, Project Selection Methods, Present Value, Net Present Value, Internal Rate of Return, Payback Period, Benefit Cost Ratio, Return on Investment, Opportunity Cost, Project Integration Management Knowledge Areas, Develop Project Charter, Initial Scope Statement, Develop Project Management Plan and its contents, Key Terms, Direct and Manage Project Work, Execution, Manage Project Knowledge, Monitor & Control Project Work, challenges, and lessons learned, Perform Integrated Change Control, Change Management Process, Integrated Change Control, Business Scenario, Close Project or Phase, Quiz, Summary

Lesson 07 – Project Scope Management

0:40:49
The headlines are: Objectives, Project Scope Management, Project Scope Management Activities, Product Scope vs Project Scope, Definition of Work Breakdown Structure, Key Terms, Examples of WBS, Project Scope Management Knowledge Area, Plan Scope Management, Collect Requirements, Business Scenario, Group Creativity and Decision-Making Techniques, Requirements Traceability Matrix, Define Scope, Create WBS, Validate Scope, Control Scope, Important Outputs, Data–Information–Knowledge–Wisdom, Business Scenario, Quiz, Summary

Lesson 08 – Project Schedule Management

0:46:04
The headlines are: Objectives, Project Schedule Management, Project Schedule Management Activities, Project Schedule, Gantt Chart, Gantt Chart –Relationships, Examples, Dependencies, Network Diagram and Examples, Key Terms, The Project Schedule Management Processes, Plan Schedule Management, Define Activities, Sequence Activities, Estimate Activity Durations, Business Scenario, Develop Schedule, Schedule Network Analysis, Program Evaluation and Review Technique (PERT) and Example, Critical Path Method, Calculation of Float, Schedule Compression, Other Scheduling Techniques, Control Schedule, Business Scenario, Quiz, Summary

Lesson 09 – Project Cost Management

0:37:32
The headlines are: Objectives, Project Cost Management, Cost Management Plan, Control Account, The Project Cost Management processes, Plan Cost Management, Estimate Costs, Determine Budget, Control Costs, Difference between Planned Value and Earned Value, Earned Value Management, Earned Value Formula, Business Scenario, Earned Value Management: Examples, Key Terms, Quiz, Summary

Lesson 10 – Project Quality Management

0:33:17
The headlines are: Objectives, Quality, Quality Related Terms, Optimal Level of Quality, Quality Management, Quality Planning vs. Quality Assurance vs. Quality Control, Quality Management Concepts, Cost of quality, The Project Quality Management Processes, Plan Quality Management, Manage Quality, Control Quality, Seven basic tools of quality, Control Charts, Cause and effect diagram, Flowcharting, Histogram, Pareto Diagram, Check Sheets, Scatter Diagram, Six Sigma, Quiz, Summary

Lesson 11 – Project Resource Management

0:48:53
The headlines are: Objectives, Project Resource Management, Functional Manager vs. Project Manager, The Project Resource Management Processes, Plan Resource Management, Organization Charts and Role Descriptions, Responsibility Assignment Matrix, Resource Histogram, Estimate Activity Resources, Acquire Resources, Develop Team, Manage Team, Team Dynamics, Conflict Management, Conflict Resolution Techniques, Business Scenario, Powers of Project Manager, Business Scenario, Organizational Theories, Leadership Styles, McKinsey's 7-S Framework, Quiz, Summary

Lesson 12 – Project Communications Management

0:24:38
The headlines are: Objectives, Communication, Communication Methods, Technology & Channels, Basic Communication Model, The Project Communications Management Processes, Plan Communications Management, Business Scenario, Manage Communications, Monitor Communications, Business Scenario, Quiz, Summary

Lesson 13 – Project Risk Management

0:42:39
The headlines are: Objectives, Risk, Positive and Negative Risk Responses, Key Terms, Calculation of Risk, Risk Categorization, Decision Tree, Risk Reserve, Project Risk Management, Business Scenario, The Risk Management Processes, Plan Risk Management, Definition of Impact Scale, Identify Risks, Perform Qualitative Risk Analysis, Probability and Impact Matrix, Perform Quantitative Risk Analysis, Plan Risk Responses, Implement Risk Responses, Monitor Risks, Quiz, Summary

Lesson 14 – Project Procurement Management

0:33:55
The headlines are: Objectives, Contract, and its Characteristics, Centralized vs. Decentralized Contracting, Types of Contract, Advantages and Disadvantages, Business Scenario, Key Terms, Project Procurement Management, The Procurement Management Processes, Plan Procurements Management, Conduct Procurements, Control Procurements, Quiz, Summary

Lesson 15 – Project Stakeholder Management

0:23:47
The headlines are: Objectives, Stakeholders, Classification Models for Stakeholder Analysis, Stakeholder Engagement Assessment Matrix, Stakeholder Management Skills, The Project Stakeholder Management Processes, Identify Stakeholders, Plan Stakeholder Engagement, Manage Stakeholder Engagement, Monitor Stakeholder Engagement, Quiz, Summary

Lesson 16 – Appendix PMP List of Knowledge and Skills

0:22:24
The headlines are: Objectives, Knowledge and Skills, Cross-Cutting Knowledge and Skills
Visit the course page and download the 12-page PMBOK Guide—Sixth Edition PMP Course Agenda in the "Course Preview" section. The total video duration is 8 hours 38 minutes and 5 seconds.
There are also 7 simulation test papers and 200 questions each. The approximate duration for a single simulation test will take around 4 hours. 7 simulation tests will take around 28 hours.
Additionally, there are chapter quizzes, 8 industry case studies, 20 industry-based scenarios, 6 hands-on projects. As all this content will take a long time, consider a preparation time up to 2-3 months if you can daily work 2 hours a day.
Pros & Cons
"Not all that glitters is gold", "Every silver lining has a cloud", "Every rose has its thorn" :))
Everything has its pros and cons. So below, there are my findings for Simplilearn, read it till the end.
Pros:
A secure payment means that the web page in which credit card numbers are entered is secured with 128-bit Secure Socket Layer (SSL) encryption. In short, it means that the Simplilearn website protects your sensitive details!
You can track your learning progress.
Although the focus is mostly on content creation, multimedia integration, and course organization, one of the other important aspects of developing an online course is to give students the ability to track their study activities. Because this enables the students to make the most of their online learning experience. In my opinion, Simplilearn PMP course does a good job in terms of this important feature.
The high-quality video and audio.
What do you need to make a perfect training video? A fancy powerpoint design, good teachers, also accurate knowledge that people want to watch? Yes, but the other important elements of a good training video are the quality of the sound and the quality of the video. For me, Simplilearn has a good quality of video and audio so I can add this into the 'Pros' part of my review.
Simplilearn has Android and iOS applications. You can watch the training videos on a mobile phone.
The significant increase in the number of smartphones and the integration of mobile technology in the life of the user have led the organization, businesses or any other field of education to mobile learning. That's why E-learning providers should be more flexible for traditional and small screens. Because this makes it easier for students what they want to learn and when: they can watch a short video on the move and prefer training when they can use it at a time of need. So as Simplilearn has Android and iOS applications it checks this box in favor of flexibility.
Online learning material is designed by experts. 
Simplilearn has all the features of good self-learning training. It is not the best one but the overall features make Simplilearn as a good training provider.
All PMP exam topics exist in the content
As explained the structure of Simplilearn PMP Training section all PMBOK 6th version content is covered in Simplilearn PMP Training videos. Also, the changes to the 2018 exam are included and the changes are reflected in the 7 simulation PMP Exam Prep Tests.
Content includes sample exams to check your knowledge.
There is the end of chapter quizzes to evaluate your knowledge just after you received the training.
The content includes 7 complete simulation tests for final exam preparation.
Training companies often use tests to measure candidates' competencies for real exams. As a result, with this information, trainers can assess your level of thinking, and predict your performance in real exam. In fact, Simulation tests are used to assess how you would answer the questions you can see in real exams. In these tests, you can also be assessed on your critical thinking ability. Simulation tests serve as an evaluation tool for a lot of positions in a variety of exams. Thus, these tests can be challenging, therefore, practice is highly recommended. As Simplilearn has sample tests, it gives you the realistic experience of taking the PMP exam.
Cons:
Cost – Performance refers to a product's ability to deliver performance, for its price. Certainly, products with a lower price/performance are more pleasing but only if you exclude other factors. For Simplilearn, the cost – performance ratio is average. The best cost-performance ratio, as per my investigation, is Master of Project Academy. Because Master of Project Academy's PMP Training is affordable and it has several enrollment options starting from $67. Also, Master of Project Academy's PMP Training has a 99.6% first-time pass rate and more than 50,000 past students.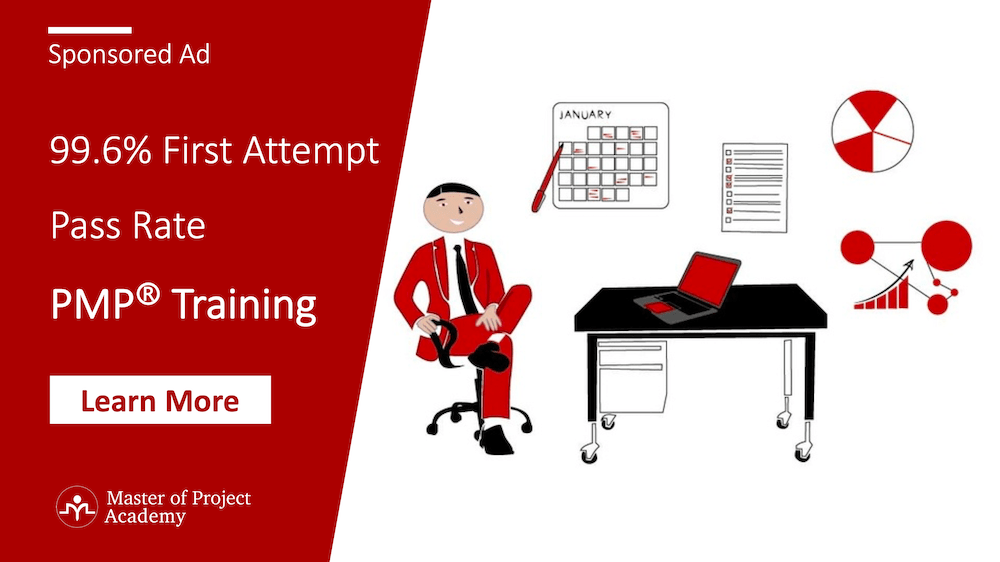 Some videos last less than a minute. 
Although content coverage is complete, the frequent changes of videos are a little worrying. Indeed, a poorly executed video can actually harm the reputation of your brand. As 8-10 minutes of video length is the optimum duration for students, they are also easy to follow.
Training assistance is provided by regular support staff through an online forum.
Unlike the competitors, Simplilearn does not provide any kind of tutor help or live chat for the online self-learning option. This is a problem because if you have a question about the material, instead of asking directly to a qualified instructor, you can only send it with general support via email or trust the Forum to get an answer.
Videos could be made more entertaining.
Of course, online training offers many benefits to the trainer and the student. But student participation is the biggest challenge in video education. Today's Internet users are waiting for most of their web content. In fact, when they get bored, they move on pretty fast. In other words, the idea is that fun education will attract people's attention more and learn more. So, the research describes that this is true. In my opinion, Simplilearn's PMP training doesn't do the perfect job to keep the students focused and entertained.
The video player has no function to increase/decrease the video streaming speed.
As technology is changing rapidly, generations are changing as well. Thus, the new generation does not like slow speaking people and does not will to show patience while there are several training options out there. So, I can count this lack of function as one of the cons of Simplilearn PMP.
Limited money back guarantee.
Money back guarantee is only applicable to the training provided by the Simplilearn PMP Instructor. But it does not apply to Simplilearn's online PMP exam preparation courses. Also, the warranty is only valid for participants who have paid the full registration fee.
The warranty is invalid if:
A student didn't participate in the PMP exam within 45 days of the end of the online classroom training.
A participant didn't maintain 100% presence in at least one of the 32-hour Live Online online training sessions.
Not completing the content of e-learning. Because the full 8-hour online study is required to learn the course material.
Participants did not receive at least 80% of the three online assessment tests offered in the PMP Exam at Simplilearn.com.
They did not follow the instructor's instructions, additionally, they did not complete the exercises given in the online tutorial.
Students did not propose the required documents to Simplilearn.
Ratings
Mouthshut is India's largest review platform. If we look at Mouthshut, Simplilearn has an average score of 4,32. Here are some positive evaluations of Simplilearn.
Good Reviews

In the above report, the reviewer rate the Simplilearn with 5 stars and she is also pleased that the training is progressing step by step. Moreover, she is pleased with the performance of the trainer. I have seen several positive comments like this. Tim Jerome is not the current tutor as I could see it is Bryan Campbell.

In the above feedback, there is another happy customer. The reviewer is happy with the PMP course and suggests others to take this course. Additionally, the reviewer mentions the high percentage of exam pass rates. Although I could not see any information on their website, when I googled for it, I could see Simplilearn PMP pass rate of 98.6%. So there is no detailed information if it is a first-time pass rate or not.
In any case, it is a very high pass rate but I have to say that I have seen better figures. I have seen better figures even as the first-time pass rate. I am all OK with the above review but the reviewer says do not look the negative comments and go ahead with Simplilearn. No, I do not agree with this suggestion, because it is not my pair of shoes  🙂
Bad Reviews
Although the overall rating is important, I usually prefer to look at the lowest ratings and look at what kind of negative feedbacks are made. I do this before every purchase, whether it is online training on Simplilearn or a $20 t-shirt on Amazon.

This review is not on PMP course, it is for another certification training of Simplilearn. But I found this feedback very important. Moreover, I have also seen similar reviews from other people. The reviewer rated the service with only one star over five. The complaint is about classroom training. The Simplilearn customer claims that she signed up for Certified Scrum Master (CSM) training, and made payment. But no venue information is shared although one week is passed. Then, the day before the class date, she claims she again asked but could not get any response. After she asked for a full refund from a live chat link SimpliLearn but she did not receive any response. If what she claims is right, maybe not for the PMP course but for Simplilearn brand it can be a big problem.
Is Simplilearn Overpricing? Really?
While going through the negative comments on a review/rating site, I have found a review certainly interesting. That review was claiming that Simplilearn is overpricing overseas candidates.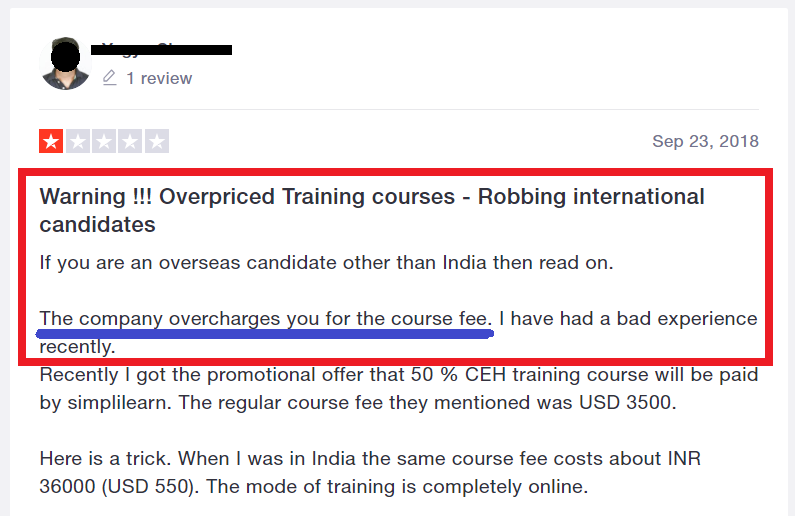 For the PMP Trainings, I wanted to check it by myself and TA-DAAA! That gentleman was right! Because the same PMP training is available all around the world, but with different prices.
For instance, self-paced PMP training is 499 USD in the United States.
But in India, the same PMP training is 8,999 Indian Rupee (INR) which is equivalent of 129 USD. So the price of PMP training for American students is almost 4 times higher than Indian students.
Furthermore, in Germany, and in other European countries, the same PMP training is 699 Euro which is equivalent to 779 USD. So the price of PMP training for European students is almost 6 times higher than Indian students.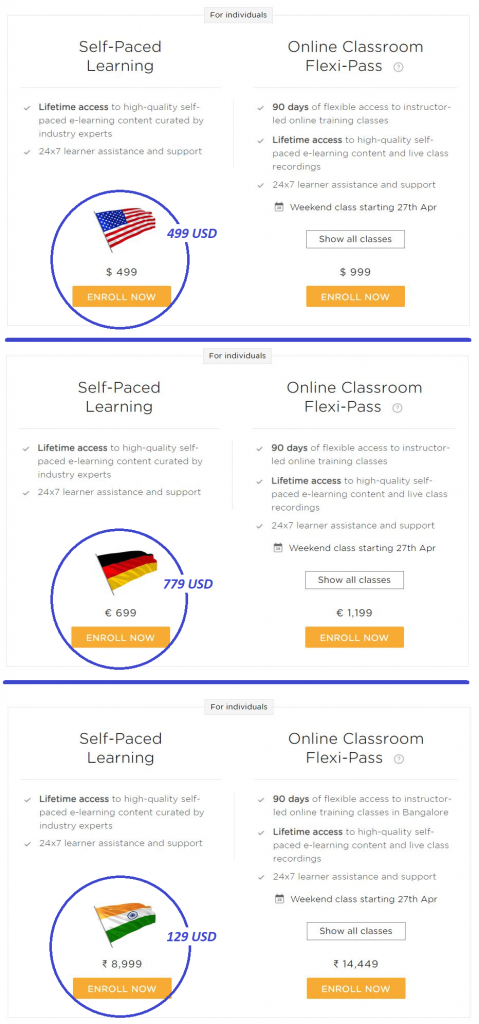 E-commerce is growing and various pricing strategies are getting implemented. Consequently, dynamic pricing is more widely applied in various sectors including training providers. This kind of price differences (as Simplilearn does) is called price discrimination. In other words, it is selling the same product to buyer segments (geographically segmented) at different prices.
It is legal most of the time but the customers want to be treated fair. If it is local or offline then it seems OK to several people. This is often because customers do not know that they are getting different prices. But when it is online you can not keep this information private. Probably it is legal, but is it ethical?
Simplilearn Alternatives for PMP Training
After considering all pros and cons of Simplilearn PMP training programs, you might think that it is not a good fit for you. We have explored the other PMP training program which can be a Simplilearn alternative for you.
---
You can read our Best PMP Training post to see all PMP training options and ratings.
---
#1 Simplilearn Alternative for PMP Training
Founded in 2012, Master of Project Academy helped more than 100,000 professionals in more than 180 countries. The biggest advantage of Master of Project Academy is providing as many flexible plans as possible for the PMP certification candidates. Self-paced PMP training, in-person PMP Training, instructor-led PMP live sessions. Starting from $67/month, you can find comprehensive PMP training materials to get ready for the PMP exam. All you have to do is opting for the best option you would like to enroll.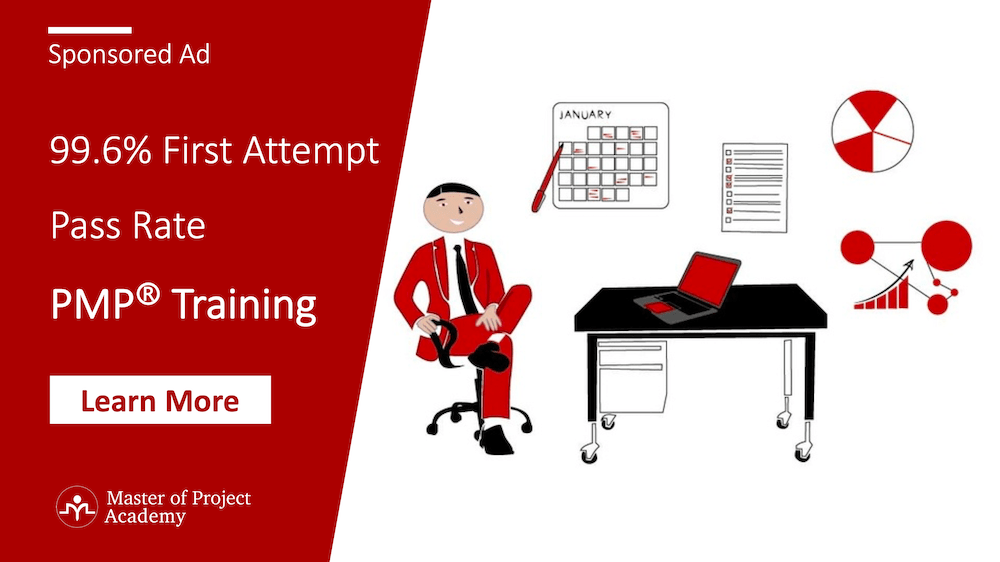 You can see our complete review and details about Master of Project Academy PMP programs.
#2 Simplilearn Alternative for PMP Training
If you are a fan of in-person PMP training programs, Project Management Academy PMP programs might be a good option for you. They have self-paced PMP programs as well however their reputation comes from in-person PMP classes. Four-day PMP classroom training starts around $2,500. Considering you can enroll in a comprehensive self-paced PMP training for $67/month, this is quite excessive. However, you can evaluate this option as well.
#3 Simplilearn Alternative for PMP Training
Another Simplilearn alternative can be Project Management Prepcast PMP programs. Cornelius Fichtner, who is an experienced project management expert, is the founder of Project Management Prepcast platform. They have self-paced PMP options however they do not offer in-person or instructor-led PMP classes which is a big negative for this Simplilearn alternative.
#4 Simplilearn Alternative for PMP Training
You might have heard of Udemy, which is a learning platform where several instructors place their content and students can purchase and enroll in their curriculum. You can consider Udemy PMP programs as a Simplilearn alternative. However, keep in mind that the instructors you see on Udemy may not be there after your purchase next day. Moreover, their content may not be 35 contact hours.  This is a very big problem and con for Udemy PMP programs. Even though many programs advertise that they suffice 35 contact hours requirement of PMP exam, their content is far below of 35 contact hours if you a little bit look on the training page. You can see our comprehensive review about Udemy PMP programs.
#5 Simplilearn Alternative for PMP Training
If you have lots of money that you do not consider how much you will pay for the PMP training, you can consider Velociteach PMP option. While there are no significant difference of their virtual or in-person PMP training programs, they ask for around $2,500 to attend in their program. This option is well-known by the founder of the organization who is Andy Crowe. He has a PMP book as well and may be that is why Andy Crowe PMP platform is significantly more expensive than the other options in the market.
End of Review
In summary, PMP certification is a core business requirement for senior-level project leader roles in all sectors. Thus, this course is the best for Project Leaders, Assistant Project Managers, Team leaders, Project Engineers, Software Developers or any professional wishing to become a project manager. PMP gives you the knowledge of project management hence, it is an approval of your global professional experience. Benefits of PMP, in short, include high market value, increased reliability, and in many cases higher wages.
Simplilearn PMP course indeed provides a good orientation to the basics of performance management. But there is no single way for PMP Certification. If you want to go for Simplilearn PMP program, you can check the latest Simplilearn PMP Course Discount Code to get the best deal when purchasing.
Simplilearn is just one option so I strongly suggest you look at other options.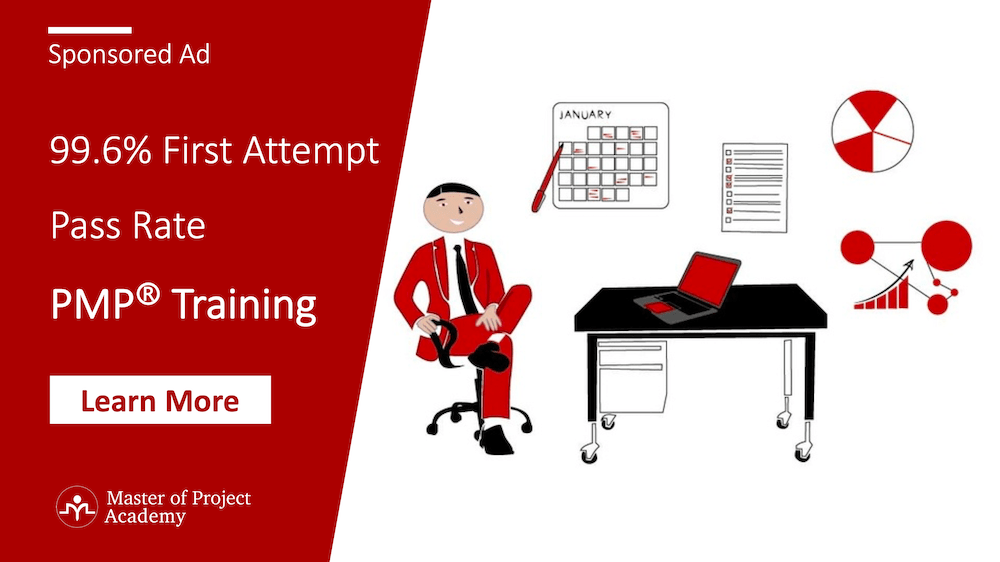 It is totally up to you…
Sincerely,
Jennifer Kane